The second day of the completion was the day I was most anxious about: rolling. I hadn't yet found a skin on frame that would fit well and I was eager to find something that I could at least do a few more rolls in. I had tried Marcel's kayak but couldn't do any forward ending rolls. I could do some rolls in the big yellow plastic kayak, but I wanted to see if there was anything else that I could do better in.
I tried to get an early start to try figure out the situation. Getting down to the kayaking area early, I came across others preparing for the rolling as well. Here is a photo of Karl from Qaqortoq preparing his tuiliq for rolling. He is rubbing whale blubber all over it.
We were still trying to figure things out when they announced that they were ready to start and McKinley was up for rolling. She was the only kid who knew how to roll and she had a little audience of people intrigued to watch her compete. They were all suitably impressed, especially given her age. Many Greenlanders do not learn to roll until much older. In fact, only two women in the "competitive" age group 24-35 competed in rolling and only 9 out of 16 men in that age group (Maligiaq's group) competed in rolling. Jenny and I were the only two females in our age group (35 and up) who participated in this event!
Here are a couple photos from several of McKinley's rolls, see photobucket for more photos of her.
One of the rolls requires the use of an avatak, or hunting float. Here I captured Maligiaq preparing the avataq for those who would do this roll. Again, they are using traditional materials, so this is made from a baby seal. Again, see the full slide show for additional photos of prepping the avataq.
After McKinley was done it was back to figuring out what kayak to use. Jenny was eager to find something too and she decided to try the red plastic kayaks that Kampe rents out to tourists for trips. It seemed to roll well for her so I decided to try it out too. I was just about to get into the one that she had pulled down, but we ran out of time and she was suddenly called to compete! We thought we had more time but we weren't aware that so few women would be competing in the rolling event and that our names would come up so quick.
While she finished prepping I dragged down a second kayak so I could try one out myself and I quickly made the decision that I'd use that red kayak to roll since I could at least do a few forward-ending rolls in it.
I gave my camera to Dubside to take photos of us, here is Jenny.
Once Jenny was finished, I was up. In an unfamiliar kayak that I hadn't tried much, I was pretty proud of myself for how I did. I was able to do a number of forward ending rolls and norsaq (throwing stick) rolls. Some rolls felt a little iffy in that kayak on my left side, but I made the attempts anyway and succeeded on many. I know I could have done more in a kayak I was more familiar with or better made for rolling, but I was ecstatic to participate. Here are a number of images of me rolling.
Sculling
Norsaq roll
Speed Rolls
Judge's view - it should be noted that Kampe, who loaned us the red kayaks, was one of our judges. I think he may have been amused to see us rolling big plastic "boats".
Showing I still had my arms crossed after coming up for this roll.
The water was quite chilly, and by the third roll you do start to get an ice-cream headache, but if you continue to roll it starts to go away (probably from going numb or something). My hands were ok though since I was wearing gloves. When I was training I would easily go out and roll for over an hour and never feel winded, however I did in Greenland. I think the water temperature was affecting my asthma and it also makes your brain go somewhat numb, but I persevered.
I did bring along a laminated list of all of the rolls in Greenlandic and English so when I was going to skip a roll I would say namik (no) or holler out the name of the next roll I knew I could do. Of course my Greenlandic isn't all that great, but I think they appreciated the effort and were humored by my pronunciations. Attempting my Greenlandic while performing my rolls made the experience that much more enjoyable.
At the very end I was sure to say qajanoq (thank you) and moved along with a huge smile on my face, I truly had a blast and I was extremely grateful to have a kayak I could at least do some rolls in!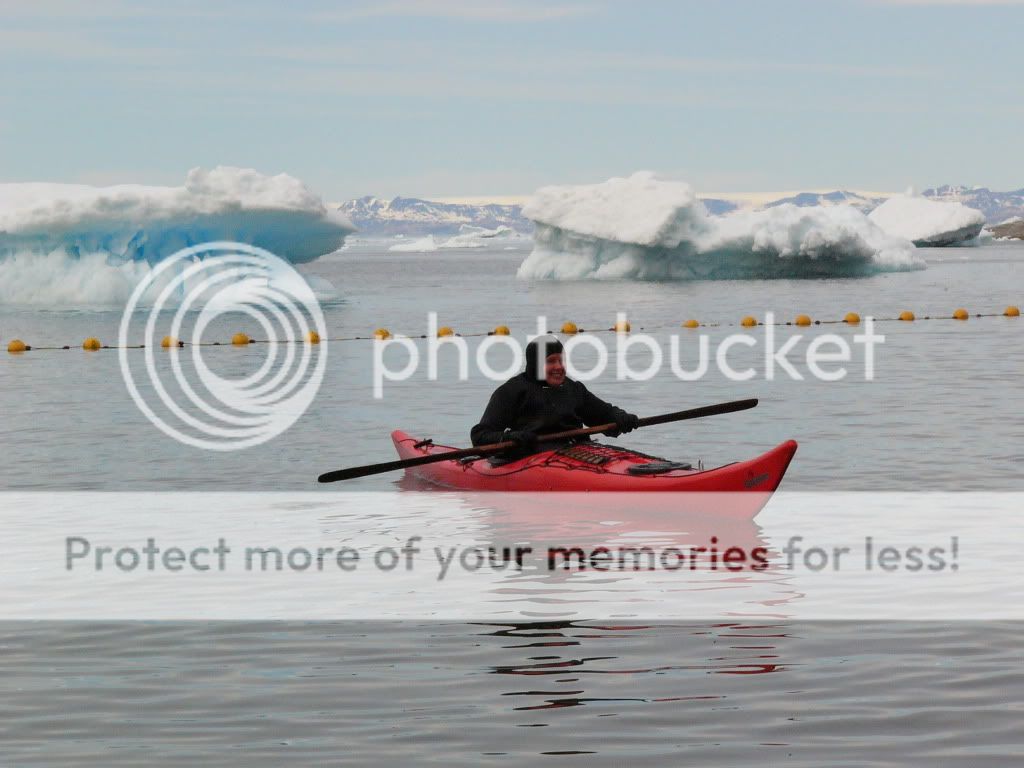 After the women, it was time for the guys, as well as kids ropes (future post). I spent most of my time watching the rolling. Dubside took his turn and did fairly well. He was in a borrowed kayak and wasn't able to do a few of the finer, forward-ending rolls, like the forward fist or brick roll, but he hit many of his other rolls.
I did step away to eat at one point so missed the one walrus pull that occurred, but I did see a number of other rollers. It is amazing to me that many of them did not use gloves given how cold the water was. Only one or two people wore gloves which were intriguing: they have two thumbs on each glove!! The gloves of course have to be traditional so are made from seal skin, and the two thumbs are so if they are paddling and one thumb freezes, they can turn the mitt and use the second thumb piece!
I did manage to capture a couple good photos of the men rolling, go to photobucket for all rolling photos, here are a couple highlights. It should be noted that, related to the fact that not all Greenlanders roll, not everyone can do all of the rolls. In fact we saw a number of the most competitive Greenlanders miss or even skip rolls.
As the rolling carried on into the evening we witnessed a tidal surge. With this surge came quite a bit of ice. When Maligiaq got out of his kayak the area was flooded with ice.
To keep the ice out of the competition area, a motor boat put a rope out between shore and the distance buoys to hold back the ice that was coming in! Look closely at these photos and you can see the ice building up against the rope that goes out towards the buoys!
As always, click any of the above photos to see full size photos, or go to the following link for a slideshow of all photos from the trip. There are a lot of extra rolling photos I haven't included here.
http://s331.photobucket.com/albums/l452/kayakgrrl1/Greenland/?albumview=slideshow